Just as the Biden administration and Congress are making major investments to expand the domestic critical minerals supply chain in the hopes of breaking our country's dependence on China, one company believes the Bitterroot valley might be the best place to start.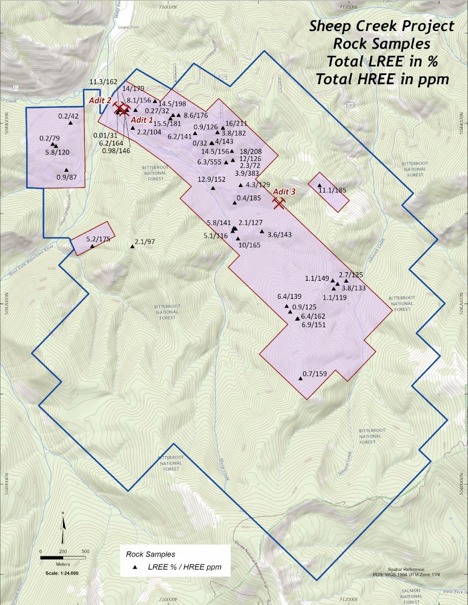 Critical minerals provide the building blocks for many modern technologies and are essential to our national security and economic prosperity. These minerals—such as rare earth elements, lithium, and cobalt—can be found in products from computers to household appliances. They are also key inputs in clean energy technologies like batteries, electric vehicles, wind turbines, and solar panels. As the world transitions to a clean energy economy, global demand for these critical minerals is set to skyrocket by 400-600 percent over the next several decades, and, for minerals such as lithium and graphite used in electric vehicle (EV) batteries, demand will increase by even more—as much as 4,000 percent. The U.S. is increasingly dependent on foreign sources for many of the processed versions of these minerals. Globally, China controls most of the market for processing and refining for cobalt, lithium, rare earths and other critical minerals.
In an Executive Order, "America's Supply Chains," signed last year, Biden ordered a review of vulnerabilities in our critical mineral and material supply chains within 100 days. In June, the Biden-Harris Administration released a first-of-its-kind supply chain assessment that found our over-reliance on foreign sources and adversarial nations for critical minerals and materials posed national and economic security threats.
Last week US Critical Materials Corp., a private rare-earth exploration and development company based in Salt Lake City, Utah, announced that its holdings on Sheep Creek located in the Bitterroot Mountains south of Painted Rocks Reservoir contains the highest reported total rare-earth oxide grades of any rare earth deposit in the United States. Their goal, the company states, is to develop its properties with strategic partners who have the capital and expertise to explore, mine, and extract its critical minerals in order to supply consumers, industry, and the U.S. Government with the critical minerals required to meet technology, manufacturing, and defense needs, with the overall objective of addressing the necessity to obtain rare earth materials from "friendly" sources as defined by the Inflation Reduction Act (IRA).  
"We have confirmed that Sheep Creek is the highest-grade rare-earth deposit in the United States, with a multibillion-dollar resource value," stated Jim Hedrick, US Critical Materials President, and former rare-earth Commodity Specialist at the U.S. Geological Survey (USGS).
The company states that the Sheep Creek deposit has nearly nine percent (9%) Total Rare Earth Oxide (TREO) (89,932ppm), far ahead of any other domestic rare earth resource. The deposit also has readings of 2.4% (23,810ppm) combined neodymium and praseodymium, which are both essential for the green economy. The company stated it has recently confirmed carbonatite mineralization at depth, below high-grade surface samples of 17.05% TREO and 16.44% TREO.
For context, the company states, the Swedish Government announced on January 12th, 2023, that a Swedish State-owned mining company had discovered Europe's largest deposit of rare earths, with an average grade of 0.18% TREO. The Sheep Creek deposit, as mentioned, has an average grade of nearly 9% TREO.
The Sheep Creek, Montana, property under claim by US Critical Materials totals seven (7) square miles. The project area is located on Bitterroot National Forest land up the West Fork, an hour from Darby, and is accessible by paved roads for 40 miles and then an additional 4 miles along all-weather gravel roads. US Critical Materials holds 223 lode claims on 4,700 acres. More than 50 carbonatite dikes have been identified in the prospect area.
Critical Materials executive director Harvey Kaye told MINING.com that in addition to high grades, the underground data shows a low thorium level — below 500 parts per million, which will negate the need for a Nuclear Regulatory Commission permit, likely speeding up the overall permitting process and will make extraction and processing easier, faster, and less damaging to the environment. 
"What we believe is the differentiator between Sheep Creek and the other players is that these deposits are not 600 feet under the ground, but are more easily obtainable," Kaye said. "We have the ability to bring these online, we believe, a lot faster than most that talk 10 years, when the reality is that all the American automotive companies, the Department of Defense, [and] renewable energy sources need these products now."
Critical Materials president Hedrick said the pre-resource-stage deposit is valued at a "conservative" $43 billion. He added that the company's geologists found 50 carbonatites over 800 acres, and they believe there is a "continuous source" underground that ties it all together. He pointed out that the rare earths at Sheep Creek support the production of Samarium Cobalt —alternative rare earth magnets used in aerospace, automotive and military applications such as sidewinder missiles, and added that if cobalt production comes online in Montana the results could be a "marriage made in heaven."